At Liberty Driving School, we impart high quality training to the students under the supervision of trained and experienced professionals. These professionals are multilingual to make sure that students coming from various ethnicities are comfortable and easily grasp the nuances of driving and the terminology associated with driving. Our latest model equipment training that makes it easier for the students to learn safe and skilled driving at a very fast pace.
At Liberty Driving School, it is our endeavor to impart perfect driving skills to all our students. They learn not only about operating the mechanics of their vehicles but also to keep themselves and others on road safe and secure. These skills help in making our students defensive and confident drivers.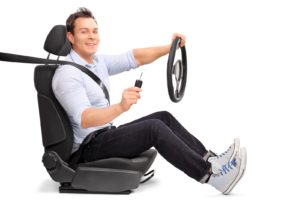 Not only our teaching methods but also our training schedules are flexible to suit the needs of our students. Flexible timings of our driving training classes make it convenient for students who are busy with their work or studies to come at the time of their choice to learn driving. At Liberty Driving School, we strictly follow and implement all rules and regulations pertaining to safety imposed by Provincial Government. We teach our students not just how to drive but also how to remain safe under actual driving conditions. Our driving training is designed to impart driving skills that save both your time and money.
We provide the most comfortable and friendly training environment that makes it easier for the students to learn driving skills in a very quick time.
All our instructors are certified driving trainers and they possess tons of experience and expertise to impart driving skills in the most professional manner. Our Driver Training Vehicles always been up-dated to newer models, all air conditioned, and dual controlled brake for your comfort and safety
Give us a call today and find out what the best Liberty Driving School has to offer. We have been teaching students for many years in (Fort McMurray) lifetime of driving skills, thousands have learned from us, you can too.
Brief History
Liberty Driving School has been working on promoting driver education and safety since its establishment in 2000. our fully trained professionals at Liberty Driving School take on the additional responsibility of ensuring each driver is equipped to be the safest driver they can be.
We pride ourselves in our dedication to safety and education. Our modern teaching methods work to help students reduce risk and make safe decisions on the road. Liberty Driving School has been a top contender in driver's education for nearly eighteen years, and continues to support its legacy of excellence .
Mission 
To provide our students the proper foundation of driving
To make sure that their future driving will be safe
Vision
To be most efficient & competitive driving school in Canada through ensuring our students to get the best customer care, professional advise and comprehensive driving.